The Client:
Staten Island Kitchen Doors manufacturers
www.sikitchendoors.com

The Product:
SIKD is in the business of manufacturing rigid thermoplastic cabinet doors, drawer fronts, and accessories.
We designed and developed a wholesale point-of-sale management tool. This software tracks various products ordered by different customers. The software also tracks sales orders and subsequent invoices. The application can be further utilized to record payments received from the customer and the outstanding balance. In addition, it reports the sales commissions for the appropriate salesperson.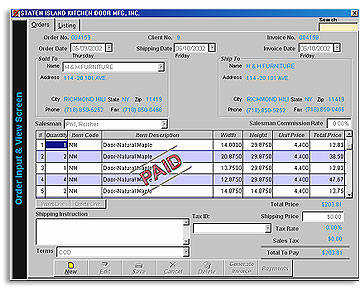 © 2002 ZTH Tech Inc. - All rights reserved.